Relax for LIfe
No two massage chairs are created equal. They may possess similar features but nothing says "therapeutic massage" quite like the Dcore Stratus massage chair.

The Stratus sits between the Cloud and the Cirrus in the DCore massage chair range. Featuring the same true Shiatsu deep tissue massage mechanism as the top-of-the-line Cirrus and is complete with Patented Wave Arrays in the arms this massage chair is really amazing.

Using real black walnut wood, from Florida, DCore brings together modern engineering with traditional Japanese beauty, finesse and elegance.


Regular price
$14,000.00
Sale price
$8,999.00
Unit price
per
Sale
Sold out
Full Body Air Massage 

3D+ Shiatsu Techniques

3 Year In Home Warranty
Benefits

✔️Enjoy 3D+ deep tissue massaging techniques where other chairs often rely on air cells alone.

✔️True Shiatsu Action mechanism to provides therapeutic and soothing relief throughout your entire body.

✔️Zero Gravity positioning cradles your body, relieving pressure and promoting optimal blood flow, ensuring you reap maximum benefits from your massage.

✔️Choose from 6 manual programs, including Arm, Leg & Foot, Knead, Shiatsu.

✔️40 air cells cover your entire body from shoulders to feet, gently compressing and massaging for a soothing and relaxing therapy session.

✔️Simulates the natural movements of a massage therapist's fingers and joints, delivering the most realistic and therapeutic shiatsu massage available in any massage chair.

✔️D.Core's Stratus combines the expertise of renowned therapists with innovative engineering, offering a therapeutic and luxurious massage experience.

Specifications

Dimensions: 

Upright: W 94cm x L 149cm x H 126cm
Reclined: W 94cm x L 184″ x H 94cm

Weight: 130kg

Typical Session Duration: 10-30 minutes

Upholstery: High-Grade Synthetic Leather + Real Black Walnut Wood

Power Supply: AC 220-240V / Rated Power 150W 

Made in: China 

Weight Limit: 120kg 

Recommended User Height: 152cm - 190cm
View full details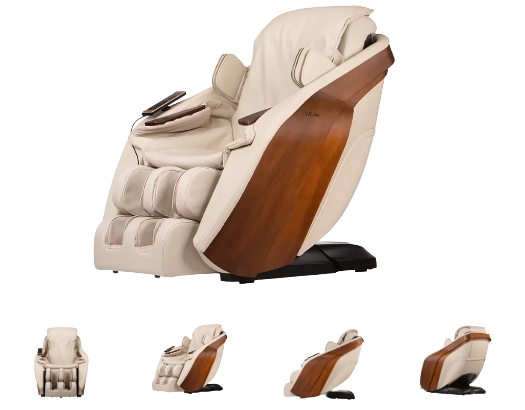 "I highly recommend the team at Relax for Life. They took the time to explain the different types of massage chairs so I could make an informed decision, but without the hard selling. My family and I are enjoying our daily massages."
Discover the Dcore Stratus Massage Chair
Affordably priced yet with top-tier features, the Dcore Stratus brings you the renowned true Shiatsu deep tissue massage mechanism found in our premium Cirrus model
Complete with Patented Wave Arrays in the arms for an exceptional experience. Positioned between the Cloud and Cirrus models, it offers incredible value that's only a fraction of the cost difference.
Features for Maximum Relaxation
Japanese Craftsmanship

Crafted with precision and quality of Japanese engineering, featuring authentic black walnut wood for a harmonious and balanced design.
3D+ Shiatsu Massaging

Cirrus' patented massage mechanism goes beyond 3D with oscillating rollers that simulate the finger and joint structure and organic movements of a massage therapist. This remarkable innovation provides the most realistic and therapeutic shiatsu massage that you will find in any massage chair.
Arm and Calf Wave Array Rollers

Cirrus' mechanical Wave Arrays extend the therapeutic power of the 3D+ True Shiatsu Action mechanism to your arms. These oscillating rollers provide healing deep tissue massage to areas of the body that most massage chairs only work with air cells.
L-Track Design

L-Track is optimally shaped for the allow the 3D+ True Shiatsu Action mechanism to deliver therapeutic and soothing relief all the way from your neck to your hamstrings.
Real Black Walnut Wood Trim

Cirrus imparts a sense of Japanese natural beauty and elegance to your home with real black walnut trim.
Heated Back Massage

Cirrus' back heating function soothes and loosens tense muscles, allowing the 3D+ True Shiatsu Action mechanism to provide an even deeper and more therapeutic massage
Foot Rollers

Cirrus combines air cells and rollers to massage, mobilise, and compress your entire foot, soothing muscles and encouraging blood flow.
9 Automatic Sessions

Quick, Master Shiatsu, Recovery, Flow, Morning, Night, Neck & Shoulders, Lower Back, Air Focus
6 Manual Actions

Arm, Leg & Foot, Knead, Shiatsu, Tap, Roll
DCore stands for Deep Core massage and delivers healing Shiatsu deep tissue massage with never before seen technology. The true Shiatsu action provides a uniquely therapeutic massage by penetrating deep into muscles to release fascia tissue that has become stuck to muscle fibers and has formed painful nodules. 
DCore's mission is to combine modern technology, incredible technical performance, and luxurious traditional beauty in their massage chairs. The result is the perfect combination of style and function. Such is the case with the Dcore Stratus massage chair.
Try Before You Buy?
Tap the button below to visit a showroom in either Melbourne, Sydney or Gold Coast to experience the benefits of this chair before you make your purchase.
Each visit comes with a complimentary consultation and education around your choices of massage chairs.
VISIT SHOWROOM
We bought a D Core chair 10 months ago; fantastic product and we came back to buy another chair this month!
Excellent service and product! Greatly appreciated the service from Mel. Highly recommended!
Julia is best sales I never meet, also the DCore Stratus massage chair is the best quality in Australia.
Excellent service from Julia and excellent chair from DCore Stratus. Felt instantly better after a 15mins massage.
I have been super impressed by the amazing service and super awesome massage chair provided by Relax for Life Peakhurst. I will definitely be a returning customer and will be recommending these massage chairs to my family and friends!