Relax for LIfe
Introducing the Fujiiryoki JP3000 Medical Massage Chair – a true masterpiece of Japanese engineering, meticulously designed by industry leaders Fujiiryoki, renowned creators of The World's 1st Massage Chair, since 1954.
As part of our introductory offer, you'll receive a generous 5-year warranty and free delivery/assembly*, making it even easier to embrace the ultimate in Japanese massage technology.
Regular price
$17,300.00
Sale price
$10,999.00
Unit price
per
Sale
Sold out
5DAI+

Meditation & Conditioning

True Japanese Shiatsu
Benefits

✔️Authentic Japanese craftsmanship for unmatched quality.

✔️50+ massage techniques for ultimate customisation.

✔️Reflexology foot massage for improved circulation and relaxation.

✔️Stretch your angles with the double leg rest extension for ankle stretching.

✔️Bluetooth speakers for a luxurious sound-surrounded space during massages.

✔️Heat therapy for loosening sore muscles and enhancing massage effectiveness.

✔️Brand New 5DAI+ technology enables this intuitive massage chair to determine exactly where your body is tight and works on specific muscles to relieve your tight spots and undo the knots in real time, just as a masseuse would feel as your knots are getting looser and massage accordingly

✔️Never before seen - Up to 12 levels of intensity adjustment to ensure that you receive the perfect massage strength you so desire

✔️Proprietary individual air cell intensity adjustments to enable you to adjust the compression level in each individual area of your massage for the perfect pressure you desire in each individual area of your body.

✔️Multi-lingual remote control for ease of use if English is not your first language.

✔️Japanese Ministry of Health Medical Device Certification for assurance you have found the pinnacle of massage chairs.

✔️Brand New Mindfulness and Conditioning programes to ensure not only your body is getting massaged but also your mind - a place for meditation and to take your mind away from all the stresses of the day.
Specifications

Dimensions - Tucked away footrest (86cm W, 141cm L, 124cm H) & Reclined extended footrest (86cm W, 212cm L, 73cm H)

Minimum width before assembly - About 70cm

Reclining angle - about 117~164 degrees

Weight - about 96kg

Power source - 100-240V (50/60Hz)

Power consumption - 125W

Continuous use time - 30 minutes(automatic timer 7/18/30 minutes)

Country of Origin - Made in Japan

*Japanese Ministry of Health Medical Device Certification
View full details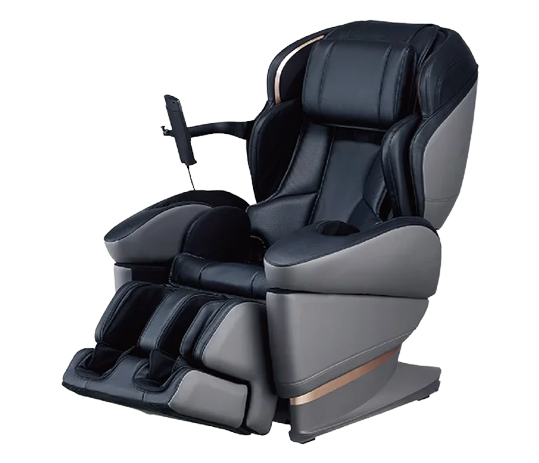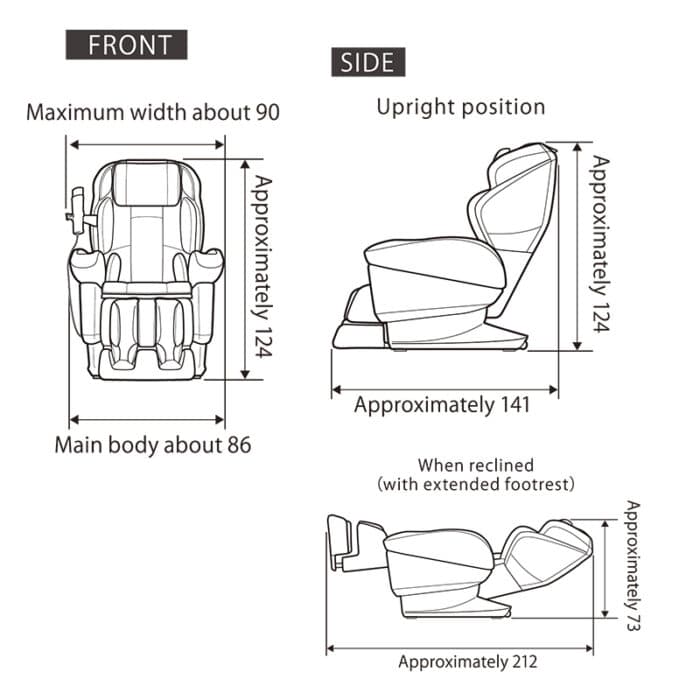 "Purchased Fujiiryoki massage chair, would say it's the best and definitely value for money. Amazing service from Relax For Life team. Would highly recommend Fujiiryoki Massage chair for people who are looking for the very best."
Experience the power of Japanese massage with the Fujiiryoki JP3000
This chair provides a record breaking 38 automatic programs within a 4.3″ full colour touch-screen with voice guidance function in multiple languages. With bluetooth speakers, double heating, foot rollers, mechanical sliding footrest to accomodate various user heights and leg types, this amazing Massage Chair really does have it all! 
Features for Maximum Relaxation
Made in Japan

High-quality manufacturing and precision, inspired by Japanese culture's focus on wellness and relaxation.
Fujiiryoki AI Technology

Real-time, personalized massages based on body shape and muscles status.
5D-AI Mecha PLUS

Dual kneading balls for over 50 massage techniques, 5D technology for lifelike massages.
High Torque Precision Brushless Motors

Longer lifespan, reduced noise, heightened precision, and control.
38 Programs

38 automatic programs, 53 massage techniques for versatile massage options.
AI Double Sensing Body Scan

Consistently perfect massage tailored to each user, replicating 16,800 body types.
Reflexology Foot Massage

Alleviate tension, enhance blood circulation, and reduce stress in feet.
Double Legrest Extension

Powered leg rest and calf airbags for ankle stretching during stretching programs.
Bluetooth Speakers

Left and right bass-reflex speakers with Bluetooth for a premium audio experience.
Heat Therapy

Loosen sore muscles in lumbar and feet areas, enhancing massage effectiveness.
Mindfulness Course - Meditation

30-minute soothing air massage for relaxation and meditation.
Touchscreen and Multi-lingual Remote Control

User-friendly interface with multiple language options and voice guidance.
Up to 12 levels of intensity adjustment

This never before seen number of intensity adjustments allows you to receive the perfect massage strength you so desire.
Proprietary individual air cell intensity adjustments 

This proprietary feature will  enable you to adjust the compression level in each individual area of your massage for the perfect pressure you desire in each individual area of your body.
User profile settings

Save up to 2 user profiles as "favourites" so that the system will remember your favourite recline position, intensity levels, body shape, etc.
Fujiiryoki created the World's first massage chair in 1954 & has now designed the JP3000 Medical Massage chair, certified Medical Device by the Japanese Ministry of Health
Japanese made massage chairs, exclusively available in Australia at Relax For Life.
Want to try before you buy?
Tap the button below to visit a showroom in either Melbourne, Sydney or Gold Coast to experience the benefits of this chair before you make your purchase.
Each visit comes with a complimentary consultation and education around your choices of massage chairs.
VISIT SHOWROOM
Amazing!
This massage chair gets every point of my sore and aching body just perfectly. It's honestly as if a human is using their hands to feel exactly where I need it and massaging all my knots out. I just love love love it and everyone who tries it in my loungeroom also says it's amazing!
This is a very good home experience, you can enjoy professional level massage every day, also can quickly restore the body and help sleep. This is a massage chair worth having. Great service.
I compared and tried many massage chairs but Fujiiryoki is by far the best brand out of all. I tried the JP3000 in the Sydney showroom and knew immediately that it was the right choice. I have had it for over a month now and can say that it is one of the best decisions I've ever made. I use it daily, I sleep better than I ever have and my body feels light and fresh. No more putting up with my old stiff neck and other aches and pains! My wife tells me I am not as cranky as I used to be!! Is it worth the dollars? 100% without a doubt!
Fibromyalgia Relief!
As someone with Fibromyalgia, I purchased the JP3000 Medical Massage Chair for my daily use at home and it has absolutely provided me with such great relief from my regular aches and pains. I feel so much better since having this chair and have more energy then I've had in a long while! I also love that I can use it in the middle of the night when I awake with severe pain. Thank you very very much to Relax For Life.
Best Value for Money
Purchased Fujiiryoki massage chair, would say it's the best and definitely value for money. Amazing service from Relax For Life team. Would highly recommend Fujiiryoki Massage chair for people who are looking for the very best