Relax for LIfe
The OHCO M8 is the most luxurious massage chair on the planet, a masterwork of unparalleled massage innovation and visual beauty.  
Designed and engineered by Ferrari and Bullet Train Designer Ken Okuyama, the M8 boasts calculated, precise movements that mirror the hands of a massage master—melting tension and awakening your senses.
From the moment you open the rear swing doors that allow for simple entry and exit you will escape to a place where you are abundantly relaxed, fully recharged, and thoroughly rejuvenated. Allow yourself to become engulfed in complete serenity everyday as you elevate your wellbeing to new heights.
Regular price
$17,300.00
Sale price
$12,999.00
Unit price
per
Sale
Sold out
Opening Rear Doors

Dual Massage Mechanism

5 Year In Home Warranty
Benefits

✔️The pinnacle of massage chair engineering and design.

✔️Multi-award winning massage chair.

✔️ The Rear Swing Doors make entering and exiting the chair easy and graceful, enhancing your overall relaxation experience. Perfect for Elderly Customers.

✔️Movesync™ Dual Massage Mechanisms work in harmony, targeting your back, glutes, and neck with unparalleled precision.

✔️Reflexology foot massage for improved circulation and relaxation.

✔️Tuck away remote design to give you complete focus without interruptions.

✔️Total immersion atmosphere with features like ionizer, bluetooth speakers, aromatherapy, and chromotherapy, engaging all your senses.

✔️Where Japanese massage traditions and technological excellence meet.

✔️ Zero Gravity plus Lay Flat positions available for optimum comfort and relaxation.

✔️Multi-lingual remote control for ease of use if English is not your first language. 

✔️ Knead and stretch Headrest for melting away those tension headaches and knots in your neck
Specifications

Weight: 165kg 

Reclining Angle: 120° to 160° 

Max User Weight: 120 kg

Made in: Japan

WALL HUGGING: Yes, 16cm from the wall

TOTAL ROLLER COUNT: 12

AIR CELLS: 76

MOTORS: 10

USER WEIGHT LIMIT: 120kg

RECOMMENDED USER HEIGHT: 5'1″ – 6'4″

SEAT WIDTH / DEPTH: 53cm W / 44cm D

CHAIR DIMENSIONS:

Upright: W 92cm (+50cm for each open door) X L 153cm X H 125cm

Reclined: W 92cm X L 196cm X H 91cm

Other: 

14 programmed sessions 
9 massage technique variations  
Calf, kneading neck & foot rollers
4 Air programmes 
Multi-lingual remote control for ease of use if English is not your first language.
Multiple HEAT locations: Feet, palms, back, seat, back rollers, neck rollers (in pillow)
View full details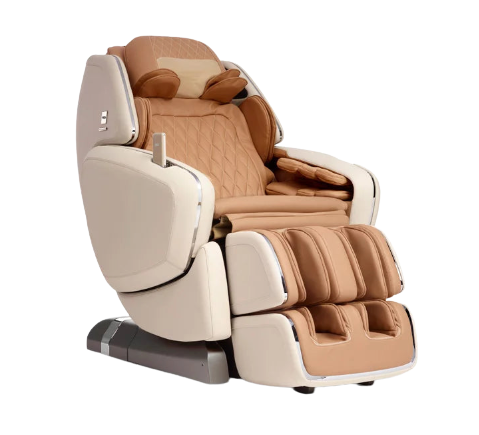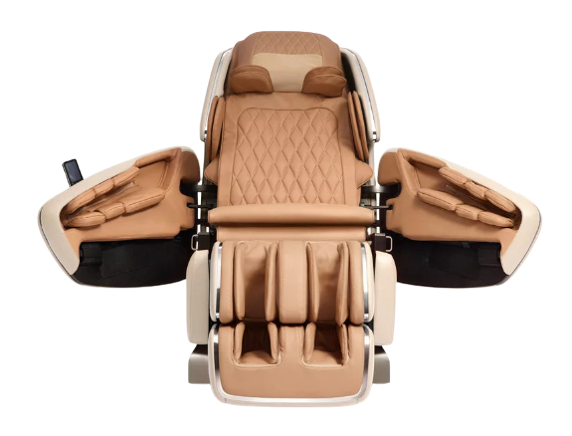 "I can't even explain how this OHCO M8 Massage chair makes me feel, it is truly unbelievable! Since I've been using it over the last few months, I sleep better, I feel calmer, my back pain is no longer, I have so much more energy and I feel alive again. It has changed my life and I will be forever grateful to the team at Relax For Life for not only introducing this chair, but also for their exceptional service and patience with me during the showroom demonstration and to the wonderful delivery guys who were fantastic. I only wish I'd made this purchase years ago. Thank you, thank you from the bottom of my heart!!"
Jill Wilkinson (Verified Review)
Discover the Art of True Comfort & Innovation
The OHCO M.8 luxury massage chair embodies the world renowned shiatsu sensei Okabayashi, giving you an immense level of comfort and relaxation that cannot compare to any other massage chair on the planet. 
Bring yourself daily into a complete level of harmony, freeing up the body's healing power through techniques used for thousands of years.
Enjoy your new level of wellbeing in both the mind and muscle.
Features for Maximum Relaxation
MOVESYNC™ DUAL MASSAGE MECHANISMS

Two mechanisms move in tandem for a supremely nuanced massage. The Sens8 mechanism provides versatile and precise massage for the back and glutes, while a second mechanism located in the headrest is specifically designed for the sensitive muscles of the human neck.
ARMS OF EMBRACE™

Each arm contains six independently-controlled air cells, allowing for over 479,000,000 unique sequences and an unprecedented level of precision as your arms, wrists and hands are massaged in soothing coordination.
THERAELLIPTICAL™ CALF KNEADING

Let tension melt as complex movements mimic the hands of a shiatsu master, gently compressing and kneading your calves. This powerful and soothing capability enhances circulation, leaving your calves refreshed and renewed.
SENS8™

At the core of the M-Series lies the technology to transform your entire state of being. Our proprietary Sens8 engine is designed to deliver intuitive and lifelike massage. In addition to basic movements, the Sens8 4D engine uses advanced massage algorithms to mimic the hand movements of a massage therapist.
MAXTRACK™

OHCO M-Series massage chairs seamlessly and comfortably massage your back from your neck to your hamstrings in the upright, zero gravity, lay flat and in every position in between. They also deliver an excellent full body stretch.
REAR SWING DOORS

Move into and out of your massage chair with ease and grace. Left and right Rear Swing Doors allow for simple ingress and egress. The first and only of their kind, our innovative doors make getting into and out of your chair easy and relaxing.
DUAL BODY SCAN

Leaving nothing to chance, the M.8 adjusts its choreography to fit the precise shape of your body, drawing on data from pressure sensors and the location of the headrest
TOTAL IMMERSION ATMOSPHERE

The M.8 creates an aura of total relaxation by activating nearly all the senses with an ionizer, bluetooth speakers, aromatherapy and chromotherapy.
KNEAD AND STRETCH HEADREST

Experience gentle neck traction as the M.8 headrest lightly relieves pressure on your cervical spine with air-driven neck stretching. Mechanical rollers then work and knead the muscles in the back of your neck. Find relief and help restore neck mobility with every session.
2-WAY FOOT ROLLERS

Versatile foot rollers caress tired feet with gentle nuance.
AIR IONIZER AND WHITE NOISE GENERATOR

Clear the air and clear your mind. Enjoy each clean breath you take as the Air Ionizer removes dust, dander, spores and other irritants. Located in the headrest, a small fan moves ionized air through the vent port, echoing the sound of faint ocean waves.
AROMATHERAPY

Add a few drops of your favorite essential oil to the M-Series headrest diffuser to bring an aromatic dimension to your escape. As you settle in and breathe, your sensory receptors immediately begin to send relaxing signals to your subconscious; elevating your entire OHCO experience.
M-SENSE LIGHT POOL

The M-Series acknowledges your approach. Upon your arrival, the M-Sense Light Pool bathes the floor around your chair in a soft glow, illuminating the path to your OHCO experience. The M-Series uses motion sensors and a warm LED beckon for a welcoming and luxurious invitation.
BLUETOOTH AUDIO IMMERSION

Heighten your experience by connecting your smart device to play relaxing sounds, music or your favorite guided meditation.
See the OHCO M8 chair in our showroom
Best-known for designing the most exclusive Ferrari ever sold and genius Japanese bullet trains, Ken Okuyama set his sights on redefining infamously 'ugly' massage chairs into a timeless design of beauty and innovation. 
Translating sensei Okabayashi's expert massage choreography into the M.8 massage chair, a seamless union of modern design, state-of-the-art technology and the ancient art of massage.
Try Before You Buy?
Tap the button below to visit a showroom in either Melbourne, Sydney or Gold Coast to experience the benefits of this chair before you make your purchase.
Each visit comes with a complimentary consultation and education around your choices of massage chairs.
VISIT SHOWROOM
See More Video's of the OHCO M8?
Nicole was knowledgeable and exceptionally accommodating for me today when I needed to change our appointment time to slightly after hours. The show room was very well presented and it was essential for me to experience the chair before purchasing. Everything was just as I had hoped & I'm now enjoying my OHCO M8, thanks Relax For Life team!
We have been greatly enjoying our OHCO M.8 massage chair for 2 months now. It's been a very positive experience dealing with Carny - his extensive knowledge of the products, both from Relax and the industry, was beneficial in our selection process - plus the effortless delivery and installation, rounded out the high quality service.
Extremely helpful and relaxing visit, Julie has a great knowledge of all the chairs, looking forward to enjoying my M8 😀
Julia was very helpful in choosing the right chair for my wife. We enjoy the OHCO M8 very much.
The best Hien's massage chairs in the millions of massage chairs in the world.All my big family get already 3 expensive one .You pay what you get. Love it .Thanks you very much! 😘😘😘😘😘😘😘😘